TOP>Annual Events: Monthly Regular Events>Annual Scheduled Events: Transport Map
Transport Map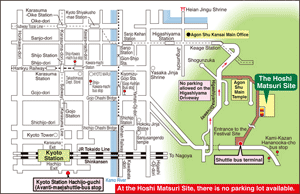 Click for bigger image.
Shuttle buses will be operated between the following points and the Festival Site
Kyoto Station Hachijo-guchi(Avanti side)shuttle-bus stop(near the Kyoto Station Hachijo-guchi)(8:30 a.m.-2:30 p.m.) - Festival Site(9:00 a.m.-4:00 p.m.)
* Please note that no shuttle bus service is operated from Hokoku-Jinja-mae.
To those who use regular-route bus:Take Keihan Bus from "Shijo-Kawara-machi" bus stop or "Gojo-Keihan" bus stop to "Kami-Kazan Hananooka-cho" bus stop(from which it is a 3-minute walk to the Entrance of the Festival Site).
From 8:00 am to 5:00 pm (tentative) on the day, Higashiyama Driveway will be restricted to a one-way northbound route between Higashiyama Joen Entrance and in the vicinity of Kachobashi Minamizume. Thank you for your cooperation in advance.
(BUS STOP / 82, 83A, 84, 84B, 86, 86A, 86B, 87, 87B, 88, 88B, 92)
There will be no parking available at the site on the day of the Festival. Please use public transportation.
Copyright (c) Agon Shu. All Rights Reserved.