TOP>Annual EventsAnnual Scheduled Events:New Year's Sacred Fire Ceremony (Hatsu-Goma)
New Year's Sacred Fire Ceremony (Hatsu-Goma)
Held at Shakazan Daibodaiji Temple of the Agon Shu Sohonden Main Sanctuary on January 1st, 11 AM; held at the Agon Shu Kanto Betsuin on January 3rd, noon.
The New Year's Sacred Fire Ceremony (Hatsu-Goma) is a ritual performed at the beginning of the year to bless the worshippers with great fortune for the year. It is conducted by Agon Shu's great spiritual leader Seiyu Kiriyama.
The ceremony takes place in front of the Shinsei-Busshari, or the authentic relics of the Buddha, at the Agon Shu Main Temple in Kyoto. These joyful and hope-filled ceremonies invoke great happiness and good fortune on the worshippers and those for whom they pray.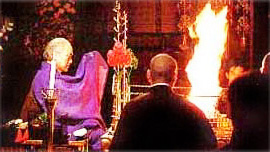 Copyright (c) Agon Shu. All Rights Reserved.