TOP>Annual Events:Annual Scheduled Events:Buddhist Lantern Festival in Honor of Ancestral Spirits
Buddhist Lantern Festival in Honor of Ancestral Spirits
Held at Kanto Betsuin on July 13 - 15 Held at Shakazan Daibodaiji of the Main Temple in Kyoto on August 13 - 15
Urabon-e Hoyo: Obon Festival in Honor of Ancestral Spirits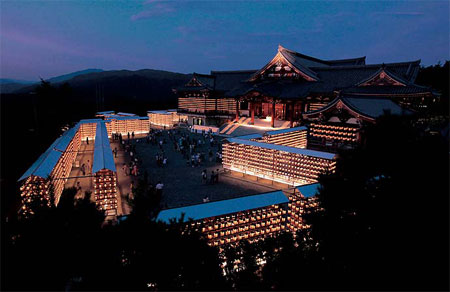 The Buddhist Lantern Festival of Mando-e prays for ancestors so that their spirits may rest peacefully, and is also an opportunity to wish for good family fortunes. Lanterns are lit in veneration of the Buddhas and bodhisattvas, and for the bestowing of virtues on the ancestors. This miracle-working ritual, originally started at the Imperial Court in 651, became an established annual event at various temples, including the Todaiji Temple, during the Heian Era. It is considered a traditional Buddhist event.
Agon Shu holds this three-day event at Kanto Betsuin in July and at the Main Temple in Kyoto in August. Participants make wishes and place lanterns around the Agon Shu grounds.
For information regarding the Buddhist Lantern Festival, please contact the nearest Agon Shu center for details.
* The services at the Agon Shu Main Temple in Kyoto are held from August 13 through 15 at 7:00 p.m. The service held by the high priest Kiriyama Kancho on August 15 is broadcast live via satellite and can be viewed at Agon Shu centers throughout Japan. (Some of the centers may not be available for viewing. Please contact the nearest Agon Shu center for information in advance.)
Copyright (c) Agon Shu. All Rights Reserved.